A solar heat network has proven to be technically and financially feasible for making existing areas more sustainable and eliminating the use of gas, finds a consortium of scientists and companies led by Delft University of Technology. The consortium has worked on the technical side of this concept. It has also made the technical and financial calculations for the area Ramplaankwartier in Haarlem that was built in the 1930s. In addition, a test array in "The Green Village" in Delft has demonstrated that the system works. So there is now a design in place for the sustainable heating of houses in an entire area, without an external heat source being needed.
In order to achieve the goals of the climate agreement, a lot of hard work is going into finding ways to make existing areas and buildings more sustainable and to disconnect them from the gas mains. The solar heat network is one of the possible solutions that has been developed and tested over the past year. The solar heat network consists of Triple Solar PVT solar heatpump panels (solar panels that generate both heat and electricity) on roofs, a very-low-temperature heat network linked to a heat/cold storage system below ground and a heat pump in every home. The homes are supplied in an energy-neutral way with hot water, heating in winter and cooling in the summer.
Slimme verdeling van warmte
Een speciale 'afleverset', een kastje met leidingen, pompjes en kleppen, zorgt ervoor dat de warmte van de het warmtenet en de PVT-panelen optimaal benut wordt. In de zomer wordt alle overtollige PVT-warmte via het netwerk in de ondergrondse opslag opgeslagen. In de tussenseizoenen wordt de warmte zowel geleverd door de PVT-panelen als door het netwerk vanuit de warmte-koude opslag. In de winter wordt de warmte hoofdzakelijk uit de warmte/koudeopslag geleverd, waardoor de warmtepomp een hoog rendement kan halen.  Een proefopstelling van het zonnewarmtenet is gebouwd en succesvol getest op The Green Village op de TU Delft.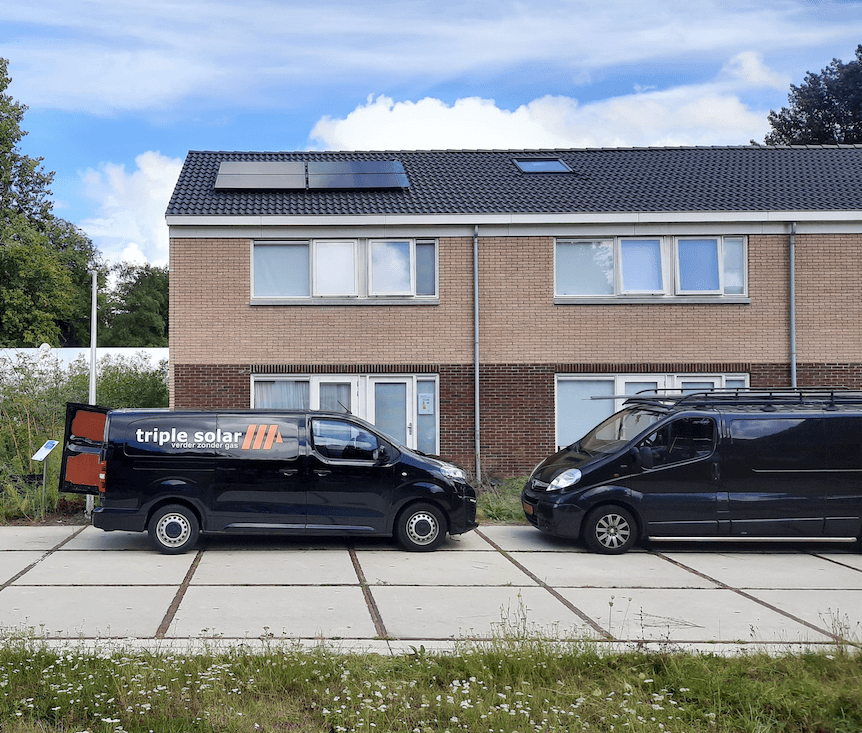 Ontwerp ligt klaar voor duurzame wijkoplossing
De resultaten van de studie in Haarlem en de proefopstelling in Delft zijn overtuigend. Het ontwerp van het zonnewarmtenet is volledig uitgewerkt. Zo is het benodigde aantal PVT-panelen per woning vastgesteld, maar ook de benodigde temperatuurniveaus voor warmteopslag en warmtedistributie. Daarnaast is getoetst hoe alle regelingen stabiel met elkaar kunnen functioneren. Aan de hand daarvan is geconcludeerd dat het systeem technisch werkt en de huizen in de wijk het hele jaar rond, met behulp van de panelen en het zonnewarmtenet, van genoeg warmte worden voorzien. De opgewekte elektriciteit uit de panelen is voldoende voor het functioneren van de warmtepomp. Het systeem is daarmee energieneutraal voor de warmtelevering. Ivo Pothof, onderzoeker bij TU Delft en Deltares, is enthousiast over het zonnewarmtenet: 'Het is de meest duurzame wijkoplossing voor de bestaande bouw die ik ken, omdat er via de PVT-panelen maximaal gebruik wordt gemaakt van lokale energie. Het concept is uitgebreid vergeleken met andere oplossingen voor bestaande woonwijken en komt in al die vergelijkingen naar boven drijven.'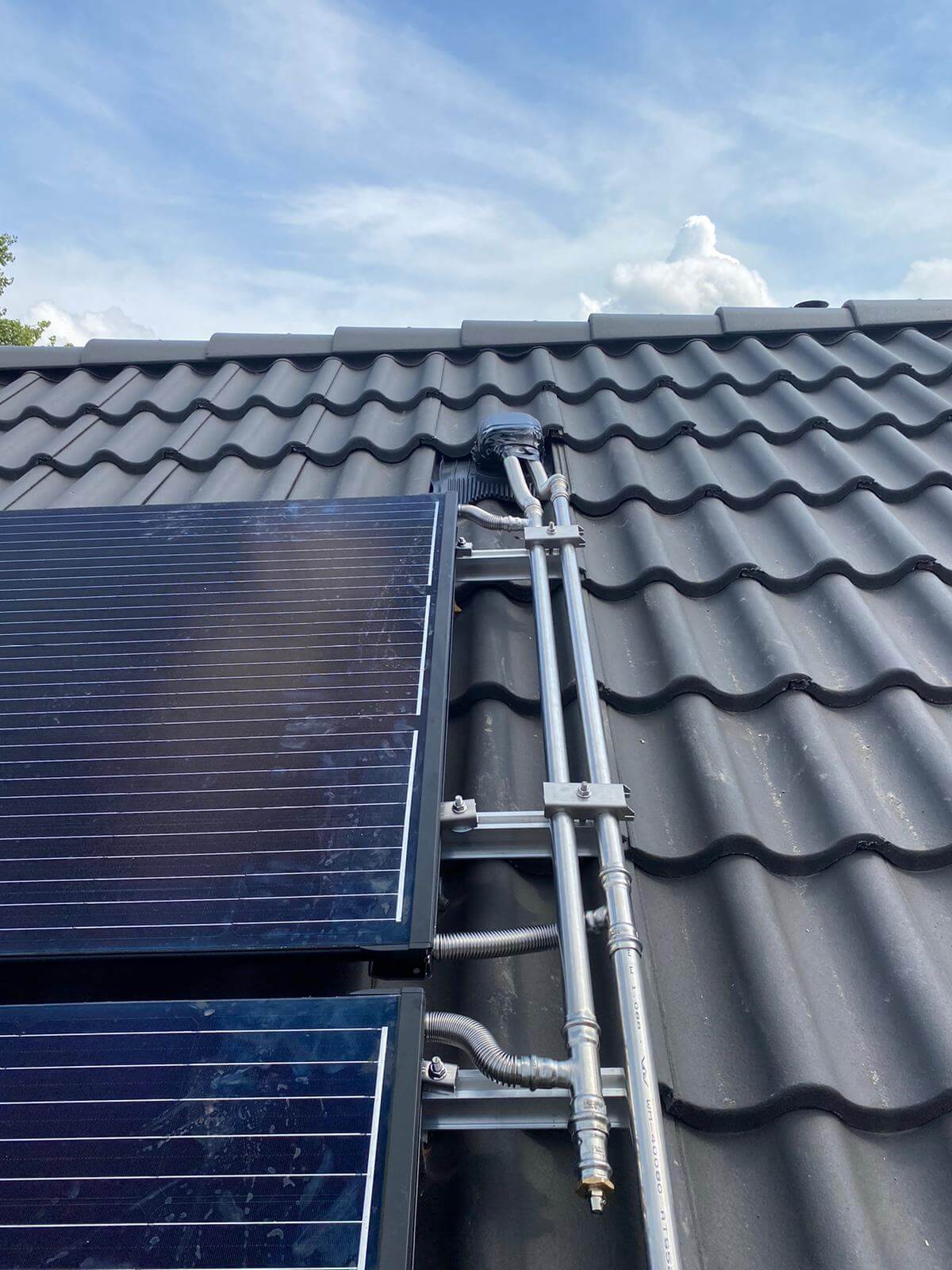 Financiële haalbaarheid
Ook op financieel gebied blijkt het zonnewarmtenet een interessant concept. Aan het begin moet een forse investering gedaan worden, maar daarna zijn er geen variabele energiekosten meer. Hierdoor is het zonnewarmtenet na enkele jaren goedkoper dan gas en de meeste andere alternatieven. De jaarlijkse kosten bestaan dan alleen uit onderhoud en aflossing van de gedane investering. De eigen elektriciteitsbehoefte van de warmtepomp wordt door de PVT-panelen opgewekt én het elektriciteitsnet hoeft niet te worden verzwaard, omdat er geen piekverbruik is in de winter. Met voldoende participatie uit de wijk en bij een laag rentepercentage is het zonnewarmtenet dus ook financieel een interessante oplossing.
Implementatie
Het consortium, bestaande uit de TU Delft, Deltares, Greenvis,  Stichting SpaarGas, Triple Solar, Fortes Energy Systems, de WarmteTransitieMakers en ENGIE hoopt dat het zonnewarmtenet een gangbare methode wordt om bestaande wijken te verduurzamen. Op de website www.zonnewarmtenet.nl worden de resultaten van het onderzoek beschreven en kunnen bestuurders en andere instanties meer informatie vinden over het zonnewarmtenet. Ivo Pothof: 'Nu de effectiviteit van het zonnewarmtenet bewezen is, is het zaak om geïnteresseerden hier zo goed mogelijk over te informeren. Op die manier kunnen nog meer bestaande wijken energieneutraal worden gemaakt.' Dit project is mede mogelijk gemaakt met Topsector Energiesubsidie, TKI Urban Energy, van het Ministerie van Economische Zaken en Klimaat, referentie TEUE018017 voor Lage temperatuur feed-in zonnewarmtenetten (DeZONNET).
Contact Mark Hoff, marketeer bij Triple Solar, 06-29481548, [email protected] Ivo Pothof, onderzoeker TU Delft en Deltares, 06 2288 3518, [email protected] Persvoorlichter Dimmy van Ruiten, 015 278 1588, [email protected] Bijlagen: Download hier het eindrapport over dit project.