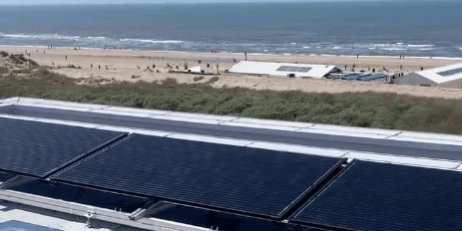 Challenge
Villa on the beach: On top of the dunes in Noordwijk, on the beach overlooking the sea. What a super beautiful spot for this sustainable villa. Noordwijk aan Zee is the flower seaside resort of the Netherlands. It has no less than 13 kilometers of beach, the beautiful dunes and the colorful flower fields. Noordwijk is the only Dutch seaside resort with official spa status.
Sustainable off the grid construction on the coast
How do you build a sustainable villa that can withstand the weather influences that this unique place has to offer?
And how do you heat and cool it without gas? The other challenge lies in heating the indoor pool, which also has to remain at a nice temperature.
The solution
This modern dune villa on the Zeereep in Noordwijk is equipped with the Triple Solar PVT heat pump solar panels and a NIBE Energietechniek heat pump. The villa was designed by architect Van Manen from Noordwijk and the construction is coming out of the scaffolding! The heating-installation has been carried out by Selcius Koude & Klimaattechniek.
Heating and cooling
A unique feature is that ceiling cooling and heating have also been applied. There is also a 500L water boiler applied for the hot water needs. And then there is the beautiful indoor pool, which is just a bit more pleasant when heated. This technical installation is also a sustainable solution.
Contact
Would you also like to heat and cool your home sustainably?
Email to info@triplesolar.eu with all your questions.
End of off the grid Villa at the beach.
Off the grid villa on the beach