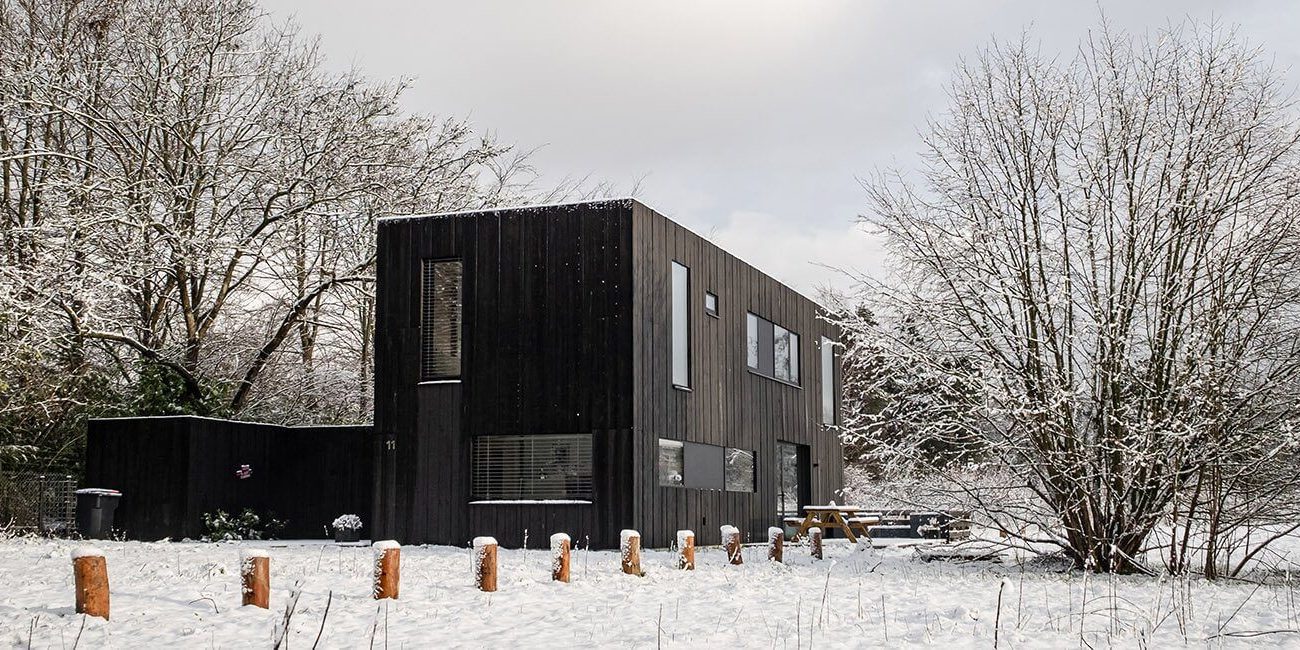 Challenge
Sustainable prefab house with PVT heat pump solar panels. Architect Joris Verhoeven designed and built a sustainable prefab house. PVT heat pump solar panels are on the roof as a source for the alpha innotec heat pump. This design has been nominated as the most sustainable house in the Netherlands.
The sustainable house of architect Joris Verhoeven is located in a wooded location in the Drijlaanen nature reserve in Tilburg, The Netherlands. He designed his compact, prefabricated wooden forest hut in such a way that the house blends harmoniously into its surroundings. The rough black facades hardly stand out next to the surrounding tree trunks. And the strategically placed windows offer striking scenic views of the ever-changing landscape all year round.
Joris's black wooden house is sustainably prefabricated from wooden walls. These are filled with flax insulation. The inside is made of birch plywood. The design is unique. The structural work also equals the finish. This provides major advantages when it comes to construction time and construction costs. After pouring the foundation floor, the house was erected in just three days.
To emphasize the rural aesthetic of the project, the interior was also largely made of (birch) wood. Even the open staircase is made of birch wood.
Solution
The inner door, kitchen and banisters are finished in matt black, just like the frames on the outside. As a result, the interior and exterior flow seamlessly into one another. The natural building method used less building materials, transport and water. This led to a negative ecological footprint.
In addition, the forest hut is a sustainable energy plant. The combination on the roof of ordinary PV solar panels and thermal Triple Solar PVT heat pump solar panels makes the house completely self-sufficient.
The Triple Solar PVT heat pump solar panels are the silent source for alpha innotec's water/water heat pump. Together they provide both heating and hot water.
Project info Sustainable prefab house with PVT heat pump solar panels
Architect: Joris Verhoeven
Location: Drijflaanen nature reserve, Tilburg
PVT panels: Triple Solar
Heat pump: alpha innotec WZSV 62H3M
Photo sources: John van Groenedaal and William van der Voort