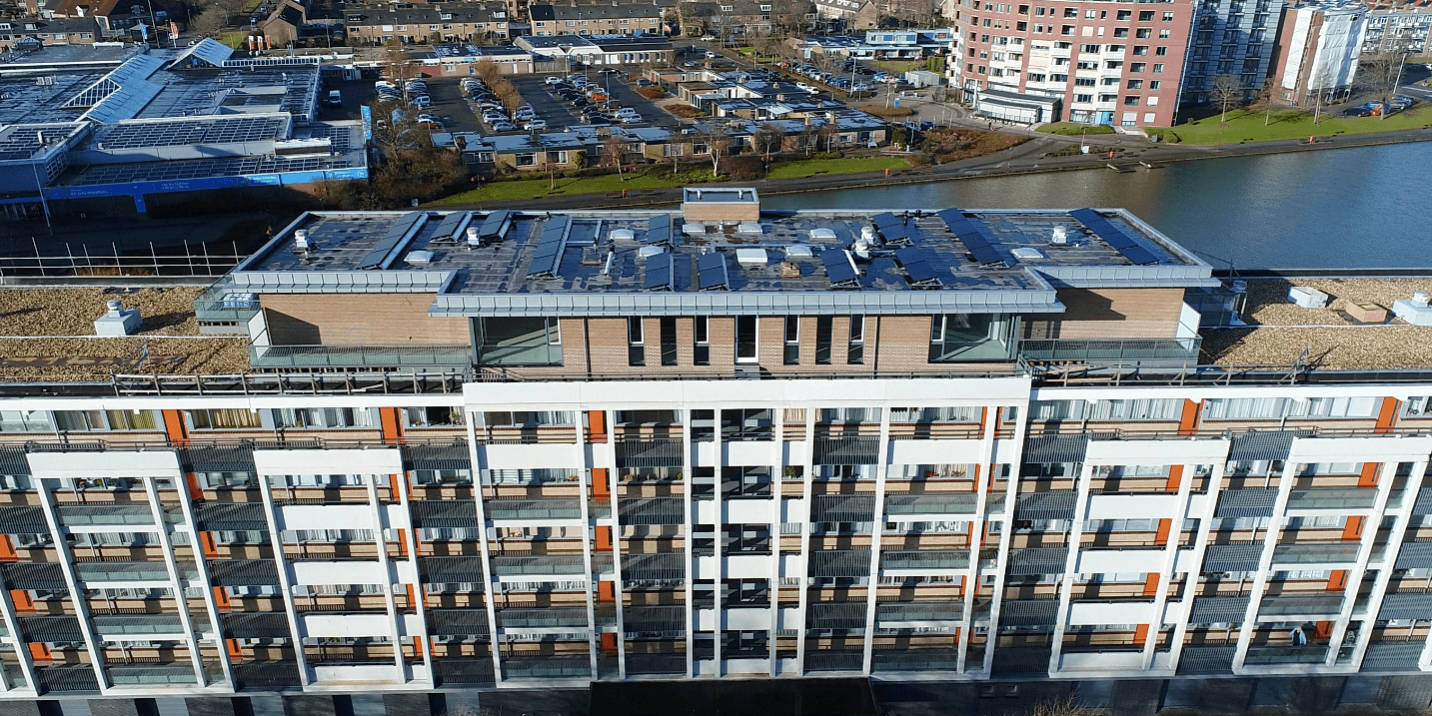 Lightweight and energy-neutral
Optop homes on top of existing apartment building: On top of the Heiligharn apartment building in Den Helder, an extra layer of homes has been built. This new building is highly innovative, as it is not only lightweight but also sustainable and almost energy-neutral. The five new penthouses crown the radical renovation of the apartment building complex with 237 rental units. While elsewhere outdated 1970s flats fell prey to the demolition hammer, Woningstichting Den Helder decided a few years ago to upgrade its Heiligharn and Baljuwstraat apartments from top to toe and provide them with a new "look". Demolition was a waste. The construction was still fine and the spacious apartments are very popular with tenants.
One of the major challenges was the required lightweight construction. This was because the five homes were placed on top of the existing building. In addition to the light weight, the physical properties of aerated concrete were very important in the choice, says Ton op 't Einde of Den Helder Housing Foundation: "In particular the heat-accumulating, sound-insulating and fire-resistant properties. Finally, we wanted to make these new penthouses as energy-neutral as possible."
Gerrit Seegers of Aannemingsbedrijf Dozy; "We placed hot rolled steel as a foundation structure on the existing building walls with aerated concrete of the Ytong Cascosystem on top. This is three times lighter than standard concrete. Of course, it is not only about limiting the weight. The facade is covered with EPS insulation, on which stone strips are glued: the so-called Prewall system. This too is much lighter than traditional brickwork.
Sustainable installation with PVT panels and heat pump
In terms of heating installation, the preference was for a sustainable and efficient system. Therefore, Triple Solar PVT panels on the roof were chosen as a silent source for the NIBE heat pump to heat the homes. This system works completely independently and separately from the already existing heating system. The PVT heat pump solar panels operate completely silent and require no maintenance thanks to the lack of rotating parts.
Cees Mager, CEO of Triple Solar: 'Triple Solar PVT heat pump solar panels are innovative and cannot be compared to ordinary solar panels. The front side consists, just like a standard solar panel, of photovoltaic cells (PV) that convert sunlight into electricity. The back is a thermal exchanger (T). Together with the silent water-to-water heat pump, it provides heating and hot water. The PVT heat pump solar panels thus provide the power required for the heat pump and are the source of this heat pump.
In short, a complete solution for sustainable energy.'
The technical installation was provided by Wilms Installatietechniek from Den Helder, where sustainability comes first. Wilms has extensive experience with the installation of Triple Solar PVT heat pump solar panels.
Optop homes on top of existing apartment building details:
Location : Heiligharn / Baljuwstraat – Den Helder
Housing corporation : Woonstichting Den Helder
Contractor : Dozy Bouwt – Den Helder
Installer : Wilms Installatie Techniek – Den Helder
PVT panels : Triple Solar – Amsterdam
Penthouses Heiligharn Den Helder Video