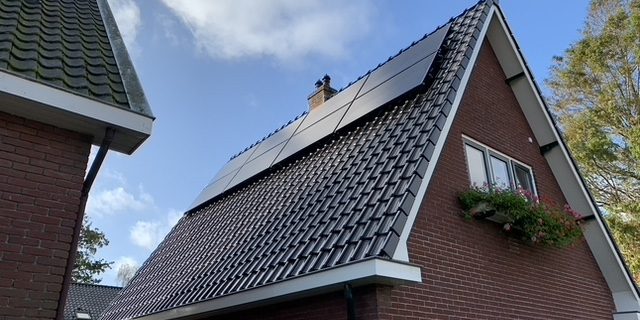 Challenge
1930s house sustainable renovation with PVT-panels as source for the heatpump: The typical 1930s home of Mr. Mol from Heiloo, The Netherlands is a pointed roof house with large 60-degree roof surfaces. Built in 1938, the house was also completely original inside. With gas heater and emergency shower in the utility room. In 1996 it was overhauled according to the then applicable standards. A bathroom and central heating with built-in boiler was added.
Mr. Mol: 'At that time you could still see out through the timber of the roof, so insulation was added later. Attic and upper floor with bedrooms and new bathroom were completely insulated from the inside. The walls were filled with EPS beads that also came loose in the crawl space. This up to a thickness of 30 cm for an insulating effect against heat and moisture.'
Later on, the windows were replaced by HR++ windows. And when the roof tiles were replaced, the battens were additionally insulated from the outside. To test how well the house was insulated, the central heating water temperature was set to 40 degrees in winter (then without insulation from the inside). With the lowest outside temperature that winter of -1.7 degrees, the house passed this low temperature test with flying colors.'
There were various reasons for Mr. Mol to become more sustainable. In addition to climate change and the depletion of natural energy sources, these were future gas and oil prices. Moreover, he likes to be innovative.
In his research into what was possible, he came up with a heat pump with Triple Solar PVT solar heat pump panels as the most efficient source. Mr. Mol: 'I also believe in hydrogen, which will certainly become a new energy source in addition to solar energy. But that will take some time. And I now wanted to make it more sustainable, also because our central heating boiler needed to be replaced.'
Solution
Mr. Mol chose Triple Solar heat pump panels as the source for the NIBE heat pump and not for a ground source or an air/water heat pump with an outdoor unit and a fan: I don't like the sound of an outdoor unit. In addition, maintenance was a point of attention. The ground source also fell off for various reasons. My conversation with the director of Diepen of KODI-Heerhugowaard confirmed my ideas.'
"The moment I heard about Triple Solar, I initially had a feeling of disbelief, because the principle seemed almost too simple. I am a technician by nature and I have studied the technology, I have read a lot about where it is applied and I visited Triple Solar at a trade fair. After that I was completely convinced that this was the solution for us. And now I can confirm: the technology has proven itself!'
1930s home gasless heating with silent PVT panels as a source for the heat pump
Since then, Mr. Mol has recommended Triple Solar to everyone: 'Finding an installer was still a task. Fortunately, more installers are trained by Triple Solar every week and the number is growing rapidly as a result.
Through Triple Solar's installer network, Dick was put in touch with Stefan de Boer of DuurzaamAan in Edam. Stefan has a lot of experience, having first worked as a manager for 7 years at technical installation agency T. bij 't Vuur, and now has his own company for 9 years, which has fully specialized in sustainable installation techniques. From installing high-quality PV panels and hybrid solutions to sedum roofs and Triple Solar PVT installations.
The price is also an obstacle, because it is higher for an existing home than when the system is built into a new building.'
'The total renovation costs of the roof, insulating the roof, the insulated pipes, the Triple Solar PVT heat pump panels with cooling and heat pump were €50,000. But the value of my house increased by 45,000 euros as a result. I received a subsidy for the remaining 5000 euros, and so my story is conclusive for me. Because I save about 2000 m2 of gas per year, about 1800-2000 euros, the Triple Solar system is definitely worth the investment.'