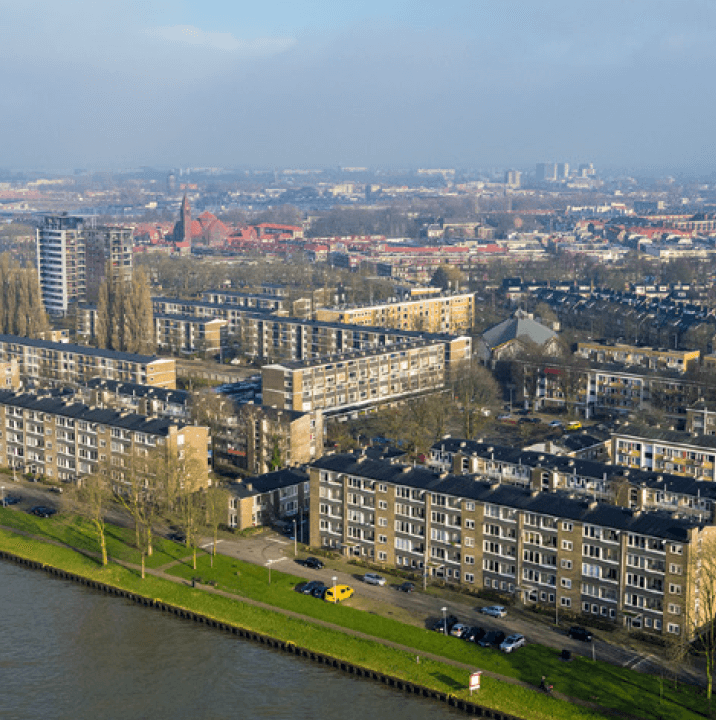 Challenge
PVT heat pump panels homes Utrecht: In the northern part of the Halve Maan district in Utrecht, The Netherlands, housing corporation Mitros is building a total of 48 social housing units. These are 24 single-family homes and a building with 24 apartments.
"De Halve Maan" is part of the district called "Oog in Al". This neighborhood was built after the war and is located near the Amsterdam Rhine Canal. This new building is part of a broader program to refurbish the "Halve Maan" district. The surrounding homes in "Halve Maan Noord" have been renovated by Mitros in recent years. The new building completes the redevelopment of "Halve Maan Noord".
The sustainable social housing will be built on a site where outdated garage boxes, a garage company and eight houses previously stood.
Solution
Contractor Koopmans is responsible for the construction and together with Mitros has chosen the Triple Solar energy concept.
PVT panels for Dickensplaats Houses Utrecht
The Triple Solar PVT panels are the silent source for the heat pump. These silent PVT heat pump panels provide both electricity and hot water (tap & heat).
The 24 single-family dwellings are ground-connected, have two floors, a private garden and are equipped with storage. Each has 5 dedicated solar panels that generate electricity and heat. There are also 3 ordinary solar panels that only generate electricity.