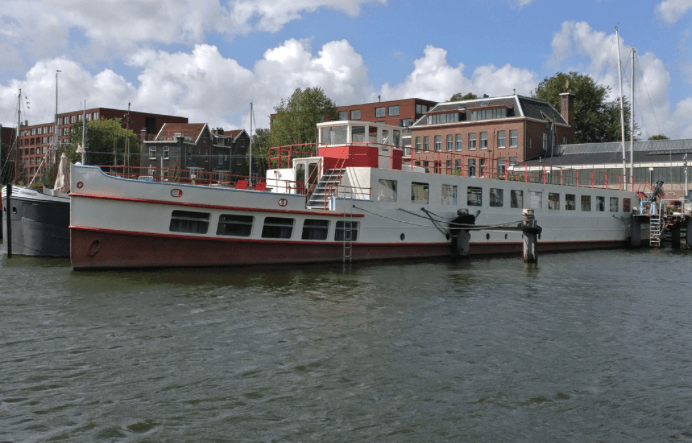 The challenge
Own energy: if you can do it with us, you can do it with anyone! Ingeborg and Renze and their search for the ideal heat pump source for their old passenger boat. She and her husband Renze consumed so much gas on their houseboat in Amsterdam that they no longer switched on the heating for a large part of it. Not surprising when you consider that we are talking about an old German tour boat with single-glazed windows everywhere, 52 in total.
A leaky basket, as far as heat is concerned. They were ashamed of their consumption of 4000 cubic meters of gas per year.
Their wish was to exchange the gas boiler for a heat pump. Whether that was possible was still the question. Because where a gas boiler effortlessly brings the water in the heating system to a temperature of eighty degrees, a heat pump only comes in half. The first step was to insulate the boat.
The solution
Renze and Ingeborg chose a modulating heat pump: a heat pump that produces exactly as much heat as needed. Because the heat pump supplies that heat directly to the heating pipes, a buffer tank was not necessary. Ideal, because that saves about a thousand liters of space and weight – not a bad thing if you live on the water.
Renze and Ingeborg have now completed their first winter with a heat pump. Ingeborg: "In the winter it is nice and warm everywhere.
ATTENTION: The costs for this poorly insulated steel ship are significantly higher than for a well insulated water house. But the energy bill of € 300 per month has been reduced to € 0. As a result, Ingeborg and Renze have recouped the costs over eight years.
Read more at the source of this article from houseboat magazine Vlotmagazine> https://www.vlotmagazine.nl/als-het-bij-ons-kan-kan-het-bij-iedereen/