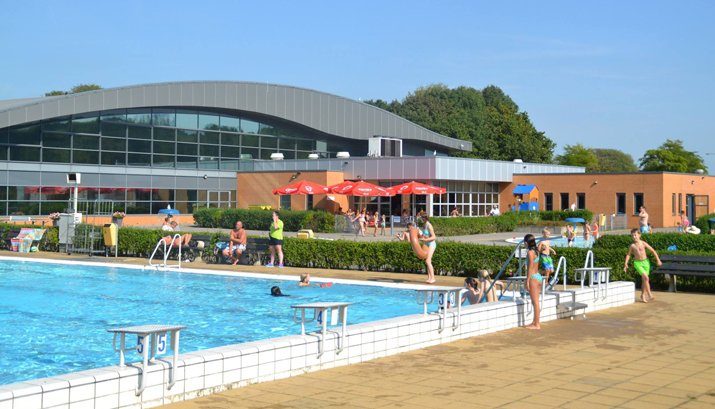 Challenge
Heating a swimming pool with PVT solar panels: The Heerenduinen swimming pool is situated on the edge of Velsen, The Netherlands in a beautiful location.
Director Minne Dolstra had the objective,  together with Fré van Geldorp from the municipality, to take a firm stance in making the swimming pool more sustainable.
In the past year many energy saving measures have been implemented in the swimming pool. These measures result in an enormous reduction of CO2 emissions.
Velsen is on its way to becoming a sustainable, climate-neutral municipality. One of the themes that is being worked on is clean energy. A swimming pool costs a lot of energy, for example because the pools must be heated, but also because the rooms themselves must have a constant temperature. If all this energy comes from fossil fuels, this is a major burden on the environment. The municipality therefore wants the energy used by the swimming pool to be generated as sustainably as possible.
Energy savings
One of the energy saving measures is a heat pump. Recently, with the help of the Hellebrekers company, a giant electric heat pump was installed to replace the current cooling machine. This heat pump extracts heat energy from the ambient air or from the cooling system connected to the heat pump. If there is simultaneous demand for cooling and heating, the heat pump can exchange the energy. The heat pump is used for basic heating. Only when the heat pump no longer provides enough heat will the central heating system step in.
Solution
The first step was a good analysis of the insulation and the energy flows. Together with specialized installation agency Hellebrekers, a heat pump for heating the pool and shower water based on a Triple Solar PVT heat pump solar panel system was chosen.
To improve the insulation and to provide a good foundation for the PVT  heat pump panels, the insulation and the roofing were completely renewed.
Swimming pool heating pvt solar heat pump panels
A total of 250 Triple Solar PVT heat pump solar panels will be installed and 260 standard PV solar heat pump panels on the roof of the swimming pool. These PVT heat pump panels generate at least 178,000 kWh of (clean) energy per year. In combination with the heat pump, the swimming pool then becomes largely independent of fossil energy sources. With these measures, the swimming pool will ultimately save as much gas and CO2 as the total annual consumption of 175 households in the Netherlands.
Previous measures
The swimming pool was previously equipped with LED lighting (75% savings compared to halogen and traditional lighting). Also, the 66-meter long slide is insulated, which saves about 15,000 m3 of gas annually.
In 2030 Heerenduinen swimming pool must possess energy label A (this was still C in 2018) and, like all other municipal sports facilities, be climate neutral (CO2 free).